Mint Condition
This device scores 10 out 10.
It will look almost brand new.
Good Condition
This device scores 8 out 10.
It will show some light signs of use.
Light scratches and/or scuffs
Fair Condition
This device scores 6 out 10.
It will show some clear signs of daily use.
Medium to heavy scratches and/or scuffs
Perfect for a first time phone or those with butter fingers.
Most imperfections covered with a screen protector and case.

Learn more
All of our devices are shipped with the following, free of charge:
Your Refurbished iPhone 11 Pro
Genuine Charging Cable
Sim Tool
24 Month Warranty
Your refurbished iPhone 11 Pro is thoroughly inspected by us using state of the art technology. Every device undergoes a strict quality control process before being dispatched. As a result, we are confident enough to give you a 2 year warranty with all our refurbished phones. Below are some of the key features of the refurbished iPhone 11 Pro. Please see the 'Technical spec' below for more detailed information.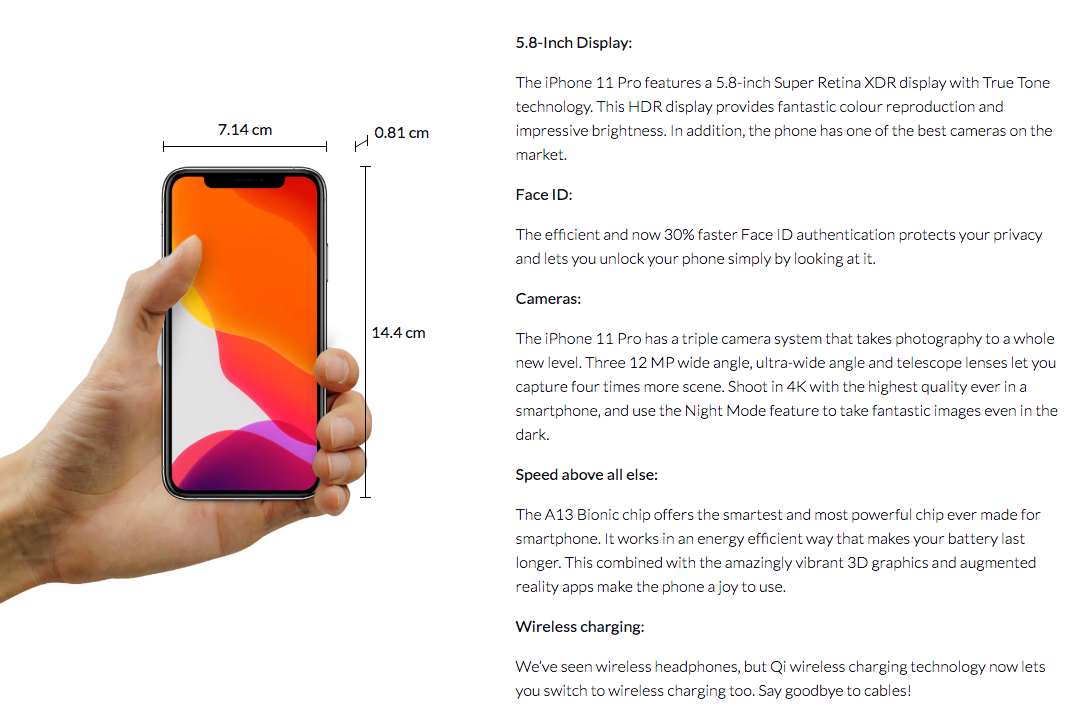 Like New Condition
Zero wear and tear. These phones look like brand new, with no scratches on the screen or body.
Apple iPhone 11 Pro Overview
This is undoubtedly Apple's most powerful and capacious handset that cannot be described as a phablet, while its combination of a unique triple-lens camera, superior battery performance and a sleek matte finish on the back make for a truly compelling phone.
But where does this impressive handset stand in the pantheon of great smartphones?
They say that it takes just seven seconds to form a first impression, and given this brief timeframe such observations are often inaccurate. At first glance the iPhone 11 Pro looks almost identical to the previous Apple handset released in the autumn of 2018.
However, a quick peek beneath the bonnet reveals that this is far from the truth, with a significantly improved camera and innovative design offering a genuinely impressive upgrade.
Triple camera feature takes next-level snaps
Apple has always had the capacity to produce superior camera functionality, but it's fair to say that the iPhone 11 Pro has taken this technology onto an entirely new level.
This is characterised by the integration of a new, ultra-wide lens, which forms part of a triple-rear camera that also features a traditional wide-angle lens and a telephoto alternative. The latter offers a far better zoom function than what has gone before, creating far better portrait images and long range shots.
Apple's new Night Mode function also thrives, with this exclusive technology applying long-exposure settings to capture detailed images even in failing light.
An improved front-facing camera and video function
The front-facing camera on the iPhone 11 Pro is also vastly improved, and this is great news for selfie lovers.
Powered by advanced HDR technology, the 12MP (up from 7MP) front camera captures images in tremendous detail, whilst the use of colour and contrast is impressive.
Both front and back cameras also record 4K video at 60-fps, allowing professional quality recordings while also introducing a 'slo-mo ' function that adds an intriguingly layer of fun (if little value in terms of functionality).
An improved sleeker design
Apple's handsets have always been praised for the quality of their design, and the iPhone 11 Pro is no exception to this rule.
This is best embodied by a new and improved rear, which features a sleek (and frosted) matte finish and provides a subtle change that really elevates the aesthetic appeal of the handset.
It's certainly easier to grip, but from a visual perspective there's no doubt that the iPhone 11 Pro is a beauty.
Improved support for dolby vision quality
With its Super Retina, 5.8-inch display, the iPhone 11 Pro handset definitely offers a much-improved viewing experience. It's also been reworked to produce optimal brightness, particularly in difficult and sun-drenched conditions.
The new display takes the experience onto a whole new level when viewing HDR content, with Apple claiming a maximum brightness of 1200 nits.
It's also returning support for Dolby Vision standard and HDR10 video content, allowing for enhanced colour contrasts whether you're watching sports or your favourite flick.
A sneak peek at Apple's A13 Bionic Chipset
This handset (along with the 11 Pro Max) also introduces Apple's cutting-edge A13 Bionic chipset, which offers unsurprising gains in terms of performance.
Video editing and exporting is undoubtedly quicker on this device thanks to the new chipset, for example, whilst Geekbench 5 benchmarking also suggests that it's one of the two fastest and best-performing smartphones on the market.
This exceptional level of performance is backed by a capacious 3,046mAh battery pack, which enables the handset to last for longer on a single charge.
Ultimately, if you 're in the market for the best premium smartphones around, you 'll be instantly drawn to the iPhone 11 Pro and its big brother (the 11 Pro Max).
However, the former packs almost the same technical specification as the larger Pro Max, whilst this device has the added advantage of being able to fit snugly in your hand and allow for far greater ease of use.
Our refurbished handsets also come at incredibly competitive prices without compromising on performance, so check out our secondhand iPhone 11 Pro deals today.
Free Shipping
All of our devices come with a free shipping as standard. Our free shipping service will come within 3-5 business days (although its usually a lot sooner). This is a tracked service and you will receive live updates.
Express Shipping
All of our express shipping service is handled via DPD Next Day Delivery. We aim to dispatch any orders received before 1PM, on the same day. You should receive your order the next working day. A timed delivery slot will be given to you and you also have the option to arrange a drop off to a local drop off point. 
Price Promise
We pride ourselves on providing exceptional value for money. Therefore we offer a price match promise. Should you find the exact same device (in the same condition, with the same accessories and with the same shipping service) - cheaper elsewhere within 14 days - we will offer you money back to pay the difference. Good luck...you're going to need it!
Excellent service very helpful and fast delivery!! The phones in excellent condition. I'm really happy with my purchase highly recommend.
Leave a review