Mint Condition
This device scores 10 out 10.
It will look almost brand new.
Good Condition
This device scores 8 out 10.
It will show some light signs of use.
Light scratches and/or scuffs
Fair Condition
This device scores 6 out 10.
It will show some clear signs of daily use.
Medium to heavy scratches and/or scuffs
Perfect for a first time phone or those with butter fingers.
Most imperfections covered with a screen protector and case.

Learn more
All of our devices are shipped with the following, free of charge:
Your Refurbished iPhone 8
Genuine Charging Cable
Sim Tool
24 Month Warranty
Your refurbished iPhone 8 is thoroughly inspected by us using state of the art technology. Every device undergoes a strict quality control process before being dispatched. As a result, we are confident enough to give you a 2 year warranty with all our refurbished phones. Below are some of the key features of the refurbished iPhone 8. Please see the 'Technical spec' below for more detailed information.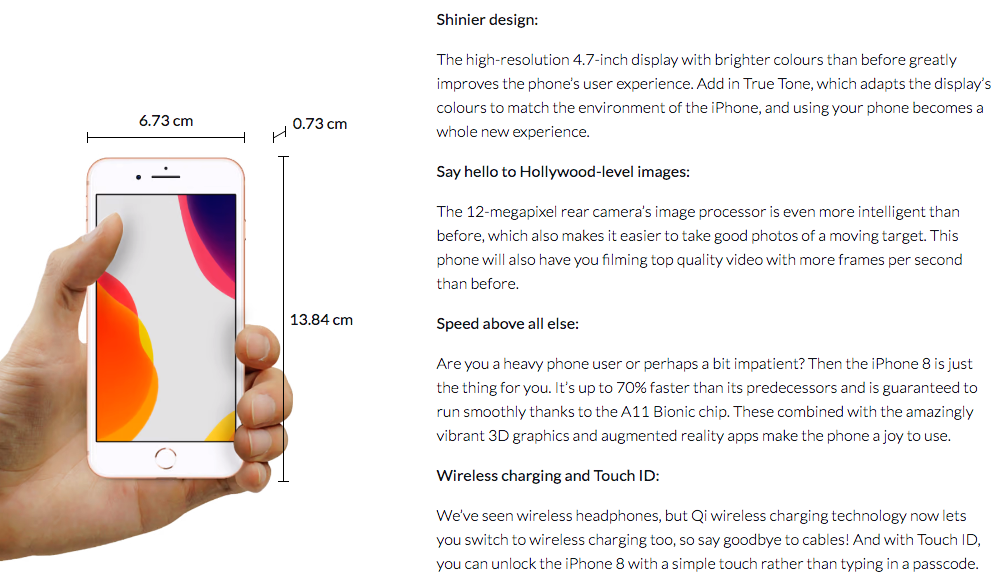 Like New Condition
Zero wear and tear. These phones look like brand new, with no scratches on the screen or body.
Apple iPhone 8 Overview
Apple CEO Tim Cook announced the iPhone 8 being a "huge step forward" for the iPhone. While the aesthetics were certainly familiar with previous generations, improved hardware make this a compact, feature-packed phone that's still up there with some of the best flagships on the market. With all that in mind and more, the iPhone 8 makes for a stellar refurbished option.
The iPhone 8 was launched alongside the iPhone X and successfully bridges the gap between older models and revolutionary top-spec devices. If you 're not quite ready to make the jump to the pricey top-end models, then the 8 could be for you.
Stylish Apple design
Let's talk about aesthetics first. After all, this has always been a draw for Apple smartphones. Sporting an aluminium frame, with glass to both the front and back, the iPhone 8 makes itself known as a premium device instantly. It's smooth, high quality, and feels great in the hand. Silver, gold, space grey and red finishes are all available too.
If you find yourself dropping your phone regularly, then the slightly grippy texture to the casing will be a real benefit. Similarly, the smooth glass feels wonderful, and does a good job of repelling fingerprints, but without causing the phone to slip out of your fingers. That glass back isn't just for looks either - Apple reckon it improves wireless capabilities.
Generous screen size
But not in the way you might think. The screen is 4.7 inches - just like in the previous generation iPhone - and while that's a bit smaller than many flagship devices, it does actually make for one of the most ergonomic smartphones you can buy. It's super easy to use the phone in one hand, and when combined with the high specs you'd expect from Apple, makes the iPhone 8 somewhat unique. No other phone will give you this combination of premium design, top features and compact size, which means that a refurbished iPhone 8 could be the number one choice for many phone buyers.
When it comes to the screen quality itself, you 'll get a 750 x 1334 IPS LCD display, which has an excellent pixel density of 326 PPI. That means sharp images, whether you're editing photos, streaming or just browsing the web. And Apple's clever True Tone technology means that the colour representation is spot on.
The ultimate selfie tool
If photos are your thing then the iPhone 8 certainly won't disappoint. The main camera delivers excellent quality whether you're at a gig or you 're taking outdoor pictures. For selfies, there's also a great quality 7-megapixel camera that faces forward. And again, that compact size makes holding the phone nice and easy.
 Top end hardware
For the hardware geeks, the iPhone 8 comes with the A11 Bionic six core processor which remains one of the fastest chips you 'll find in a phone. This ensures snappy switching between apps and the ability to run many at once without issue. If you enjoy mobile gaming, then you can be confident that the iPhone 8's internals will ensure smooth playability. 2GB of RAM is standard, and you can choose from either 64GB or 256GB of storage.
Battery life is always a priority. The iPhone 8 has a solid battery and will comfortably last the day in normal use. To sweeten the deal, Apple also ensured that the iPhone 8 comes ready to charge wirelessly and boasts fast charging, provided you use the correct cable and charger.
If you're looking for something compact and ergonomic that looks great and performs even better, then there's no phone quite like this. A pristine second-hand iPhone 8 is a great choice for anyone that places a focus on stunning looks and quality, but doesn't need a large screen, and its features and hardware shames even many brand-new phones.
5 real-life highlights

:
Live without fear of dropping your phone with the iPhone 8's compact form
Say goodbye to unsightly fingerprints with the clever oleophobic coating
Pull an all-nighter with iOS 13's Dark Mode
Forget the fuss of cables and charge the iPhone 8 wirelessly
Super tough glass means great resistance to bumps
Free Shipping
All of our devices come with a free shipping as standard. Our free shipping service will come within 3-5 business days (although its usually a lot sooner). This is a tracked service and you will receive live updates.
Express Shipping
All of our express shipping service is handled via DPD Next Day Delivery. We aim to dispatch any orders received before 1PM, on the same day. You should receive your order the next working day. A timed delivery slot will be given to you and you also have the option to arrange a drop off to a local drop off point. 
Price Promise
We pride ourselves on providing exceptional value for money. Therefore we offer a price match promise. Should you find the exact same device (in the same condition, with the same accessories and with the same shipping service) - cheaper elsewhere within 14 days - we will offer you money back to pay the difference. Good luck...you're going to need it!
Delivery took a day longer than expected. But the phone is in good condition and at a fantastic price. No complaints from me
Excellent service and very fast delivery very happy with my phone
got my second phone from phonesource n i must say they r still top of my list for handsets always brilliant quality great prices and arrived in a week thanks phonesource
Leave a review