Mint Condition
This device scores 10 out 10.
It will look almost brand new.
Good Condition
This device scores 8 out 10.
It will show some light signs of use.
Light scratches and/or scuffs
Fair Condition
This device scores 6 out 10.
It will show some clear signs of daily use.
Medium to heavy scratches and/or scuffs
Perfect for a first time phone or those with butter fingers.
Most imperfections covered with a screen protector and case.

Learn more
All of our devices are shipped with the following, free of charge:
Your Refurbished iPhone 8 Plus
Genuine Charging Cable
Sim Tool
24 Month Warranty
Your refurbished iPhone 8 Plus is thoroughly inspected by us using state of the art technology. Every device undergoes a strict quality control process before being dispatched. As a result, we are confident enough to give you a 2 year warranty with all our refurbished phones. Below are some of the key features of the refurbished iPhone 8 Plus. Please see the 'Technical spec' below for more detailed information.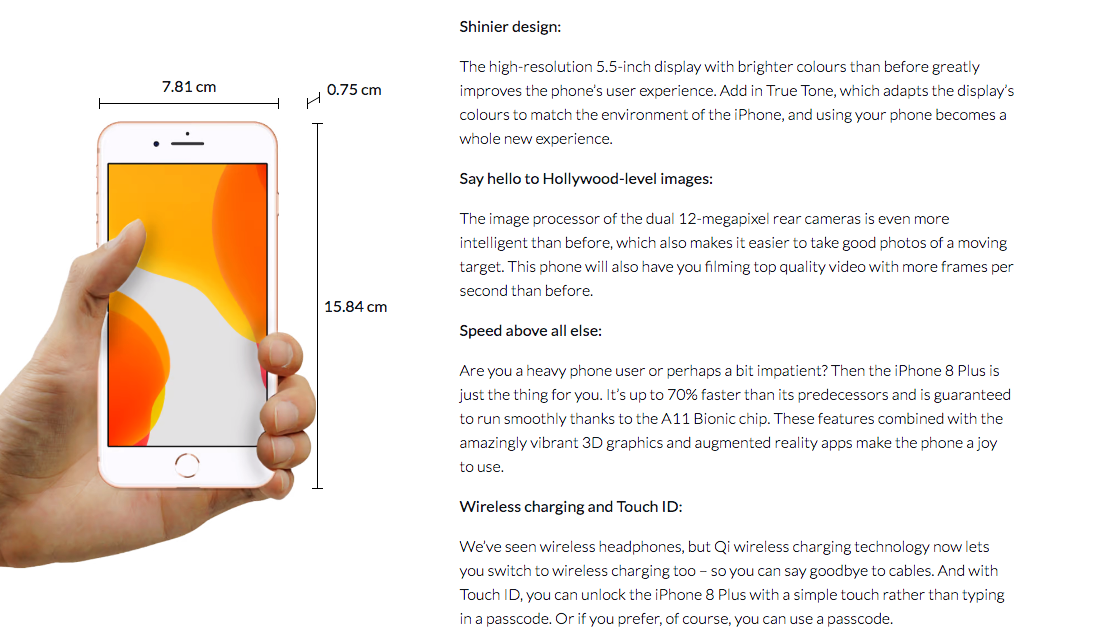 Like New Condition
Zero wear and tear. These phones look like brand new, with no scratches on the screen or body.
Apple iPhone 8 Plus Overview
The iPhone 8 Plus delivers a level up on the experience of its slightly smaller sister model, the iPhone 8, thanks to its beefed-up dual camera and higher resolution. It's the ideal companion for those of us who are looking for an all-dayer of a phone; you'll get all the extra muscle without the need for all the extra cash.
New and improved portrait lighting
It might be a small feature in the grand scheme of all things phones, but the improved bokeh mode in the 12MP dual-lens camera is a revelation. The powerful A11 Bionic chip works out the shapes of faces and other subjects and adjusts the light accordingly. It's a feature that wasn't available on previous models, so it vastly improves the Portrait mode just like a filter can improve the weather.
A dual camera to win any duel
We all know that Apple does incredible cameras anyway, so it should be no surprise that they did it again with this model. Our refurbished iPhone 8 Plus offers greater texture, greater depth and greater vibrancy than previous models, all thanks to the built-in A11 Bionic chip and the pair of 12MP ƒ/1.8 and telephoto ƒ/2.8 lenses. The zoom of up to 10x on photos and 6x on videos adds new levels to your creative flourishes, plus you won't be restricted by storage either thanks to the fact that capacity has doubled from previous models on both the iPhone 8 Plus and the iPhone 8.
A little bit of golden luxury
The option of going for gold with an iPhone 8 Plus changes the dynamic of the handset altogether. Its gold and white glass back and gold aluminium trim makes for the kind of phone that has your mates asking for a cheeky little look at it. What's more, the glass back introduces the option of wireless charging, which is super convenient.
Solid battery life for everyday tasks
Don't you just hate it when you can't finish a commute home without your battery going out on you? Well, with a pristine second-hand iPhone 8 Plus, you 'll be able to make it past dinner and into bed before you need to sit it down for some wireless charging overnight. Like all phones, graphically demanding games and hours of HD video streaming will wear it down, but everyday use is a breeze with the iPhone 8 Plus.
High-end music streaming
The stereo speakers themselves are more than up to scratch when you don't want to use your Airpods – they present a genuinely balanced sound that works great with live music videos. It's a noticeable shift up a gear from the iPhone 7 Plus and certainly nudges any of its mono speaker counterparts off the track.
iOS 13 is Apple's IOU to Us All
Originally released with iOS 11, the iPhone 8 Plus got off on the right foot, and then only got better from there. The shiny iOS 13 upgrade - now with a few more bug fixes after the initial release - means access to even more huggable features like Dark Mode, better Apple Maps and more digestible content in Apple News.
You might be thinking of switching to Apple or sticking with what you know; either way, the iPhone 8 Plus represents a solid decision that will stand you in good stead.
iPhone 8 Plus real-life highlights
Snap photos like there's no tomorrow with ample storage and a 7MP front-facing camera
Literally broaden your view on the world with wide-angle and telephoto lenses
Clear the clutter with revolutionary Qi wireless charging through a luscious glass back
Give your eyes an easier ride day and night with auto-adjustable white balance via True Tone technology
HD video is king – you get twice as much storage as before, so go crazy…
Free Shipping
All of our devices come with a free shipping as standard. Our free shipping service will come within 3-5 business days (although its usually a lot sooner). This is a tracked service and you will receive live updates.
Express Shipping
All of our express shipping service is handled via DPD Next Day Delivery. We aim to dispatch any orders received before 1PM, on the same day. You should receive your order the next working day. A timed delivery slot will be given to you and you also have the option to arrange a drop off to a local drop off point. 
Price Promise
We pride ourselves on providing exceptional value for money. Therefore we offer a price match promise. Should you find the exact same device (in the same condition, with the same accessories and with the same shipping service) - cheaper elsewhere within 14 days - we will offer you money back to pay the difference. Good luck...you're going to need it!
Usually go into a store for our phones but couldn't get the one I wanted. Went online and ordered an iPhone 8plus from Phone Source as a last minute Christmas present. Easy to order from and good price. The phone arrived earlier than expected in great condition with screensavers as extras. Once we open the box we had a note inside to say they didn't have the 64 GB we ordered so they had sent us a 256GB at no extra cost. So grateful for the excellent service. Will definitely be using them again for our next phones.Thank you
Amazing service. Phone arrived in immaculate condition great communication can not recommend them enough
Leave a review