Mint Condition
This device scores 10 out 10.
It will look almost brand new.
Good Condition
This device scores 8 out 10.
It will show some light signs of use.
Light scratches and/or scuffs
Fair Condition
This device scores 6 out 10.
It will show some clear signs of daily use.
Medium to heavy scratches and/or scuffs
Perfect for a first time phone or those with butter fingers.
Most imperfections covered with a screen protector and case.

Learn more
All of our devices are shipped with the following, free of charge:
Your Refurbished iPhone X
Genuine Charging Cable
Sim Tool
24 Month Warranty
Your refurbished iPhone X is thoroughly inspected by us using state of the art technology. Every device undergoes a strict quality control process before being dispatched. As a result, we are confident enough to give you a 2 year warranty with all our refurbished phones. Below are some of the key features of the refurbished iPhone X. Please see the 'Technical spec' below for more detailed information.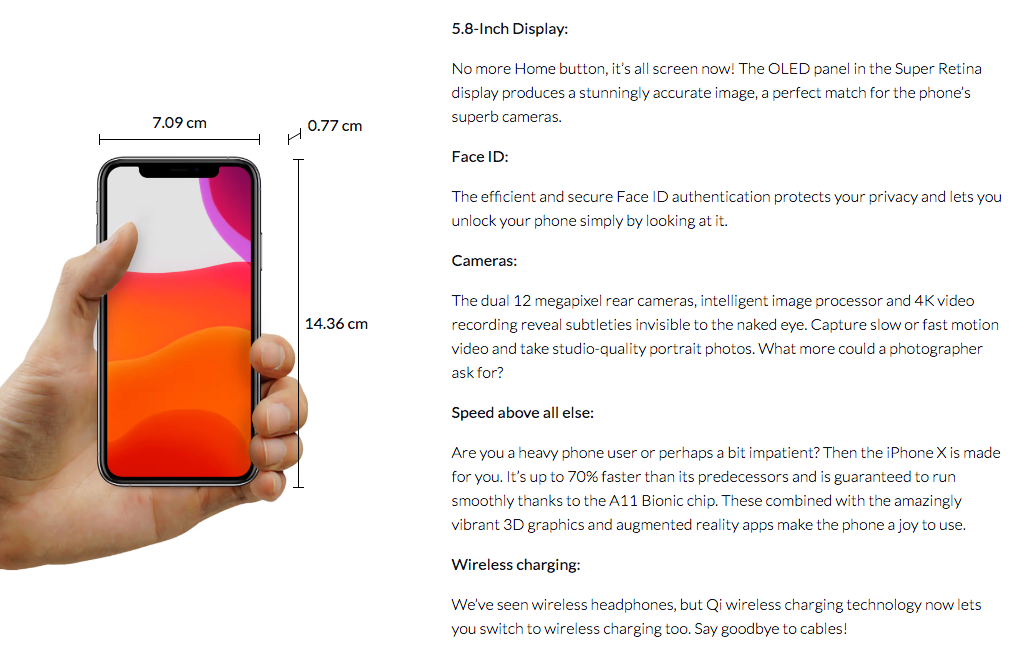 Like New Condition
Zero wear and tear. These phones look like brand new, with no scratches on the screen or body.
Apple iPhone X Overview
Owning an iPhone used to be the sole domain of the rich and high-techy, but with our pristine refurbished iPhone Xs, it's never been easier to experience how the other half live, text, or Snapchat.
Great phone camera for selfies
First thing's first - opting for our refurbished iPhone X is not the right choice if you're someone who relies on mood lighting. The TrueDepth camera gives you the same level of picture quality as high-end DSLR cameras, including blurring the background in selfie mode, thanks to the dual 12-megapixel sensor which is optically stabilised and partnered with a new image signal processor.
Guaranteed phone security for privacy
And the spotlight isn't just on you when you're taking a photo - Apple's intuitive Face ID means you can unlock your phone with just your face. The facial recognition feature even works with sunglasses on. In fact, there's no home button on the iPhone X - instead, you'll be able to open and close apps with whimsical sweeping motions.
Superior phone video quality for gigs
Gone are the days of posting a video from a gig on social media and the band only being visible as pixelated squiggles - the iPhone X boasts HDR playback, meaning videos can be shown encoded in the HDR10 and Dolby Vision formats for next-level depth and realistic colour reproduction. When paired with the True Tone display which automatically adjusts white balance, your gig videos will be taken to the next level.
Exciting features for socialising
If you've ever dreamed of conveying crucial meeting notes over iMessage under the guise of a talking emoji, now's your time to shine. Our refurbished iPhone X comes kitted with Apple's Animoji, which allows you to record and send voice messages with interactive emojis at the touch of a button, with popular options including a feisty fox, adorable alien and cutesy unicorn.
Great battery life for commuting
Our refurbished iPhone Xs are in pristine condition, meaning the stunning glass back which allows for wireless charging will be intact and good to go. There's literally no way to mess wireless charging up and you won't have to worry about borrowing a USB cable from your unsuspecting coworker - simply place the phone on a level surface and compatible charger to boost the battery.
Wireless headphones for music streaming
New features like Dark Mode and app speed increases make it easier than ever to browse the web on an evening, working in tandem to dim the background while maintaining readability and browsing speed at all times. Like other iPhones, the X doesn't utilise a conventional headphone jack and is compatible with AirPods.
Whether you've always been an Apple enthusiast, are an iPhone amateur or prefer other providers, we 'd be surprised if you've not found something you like about the iPhone X. If our refurbished iPhone X sounds like something you'd like to get your hands on - whether it's for selfies, social media or streaming - check out our pristine second-hand iPhone deals today.
Five iPhone X real-life highlights
Send messages as an Animoji - suitable for any occasion.
Ditch the wires with WPC wireless charging and AirPods.
Take next-level photos and videos with the 4K dual-pixel camera.
Save more than ever before with generous storage space.
Unlock your phone easily with Face ID, even when wearing sunglasses.
Free Shipping
All of our devices come with a free shipping as standard. Our free shipping service will come within 3-5 business days (although its usually a lot sooner). This is a tracked service and you will receive live updates.
Express Shipping
All of our express shipping service is handled via DPD Next Day Delivery. We aim to dispatch any orders received before 1PM, on the same day. You should receive your order the next working day. A timed delivery slot will be given to you and you also have the option to arrange a drop off to a local drop off point. 
Price Promise
We pride ourselves on providing exceptional value for money. Therefore we offer a price match promise. Should you find the exact same device (in the same condition, with the same accessories and with the same shipping service) - cheaper elsewhere within 14 days - we will offer you money back to pay the difference. Good luck...you're going to need it!
My phone arrived a few days ago. Quick delivery and came packaged securely. It's in good condition and my daughter is really happy with it. Thanks again.
Just got my new iPhone X. Couldn't be happier. Delivered the next day and came with a charger and screen protector. In perfect condition.
I purchased an Iphone X in November for my wife's Christmas present. Everything was fine, but the sound quality on phone calls was poor. Contacted Source, who said that I could return for repair or refund, they would send a prepaid label. I posted it Monday morning, email confirmation they had received on Tuesday and repaired back on Wednesday - amazing service appreciate Royal Mail did their part as well. Cannot fault the service only applaud. Have bought two Iphones from them over the past twelve months would certainly not think of going anywhere else.
Leave a review